Equipment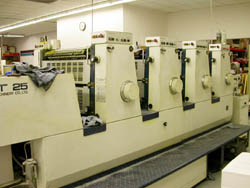 We utilize the most current technology in our industry. Our state-of-the-art equipment allows us to provide our clients with high-quality products on time and on budget
We realize that most people could care less about what model of press or copy machine we use, so long as they receive what they ordered. Still, we can't help being proud of our toys. Once you see how great they make you look, we hope you'll be proud of them, too.
Prepress
Software
Software - The software titles we can accept files for.

Adobe Pagemaker 7
Adobe Photoshop CS
Adobe Illustrator CS
Adobe InDesign CS
Quark Express 6.5
Freehand MX

If you have any questions concerning file compatability please feel free to contact us.
Pressroom
Bindery